Watercolours can be annoying as all hell when you're just starting out, but they have a very distinctive flair you can't really achieve with any other media. If you have no idea where to start, they can have you pulling your hair out in FAIL, but if you use the right materials and techniques it can actually be the fastest and easiest way to create a darn beautiful piece.
In this tutorial, I'll go over some basic tips on how to get started painting a portrait. So lets get to it kids!
First off, I'll go through my materials….
Speaks for itself really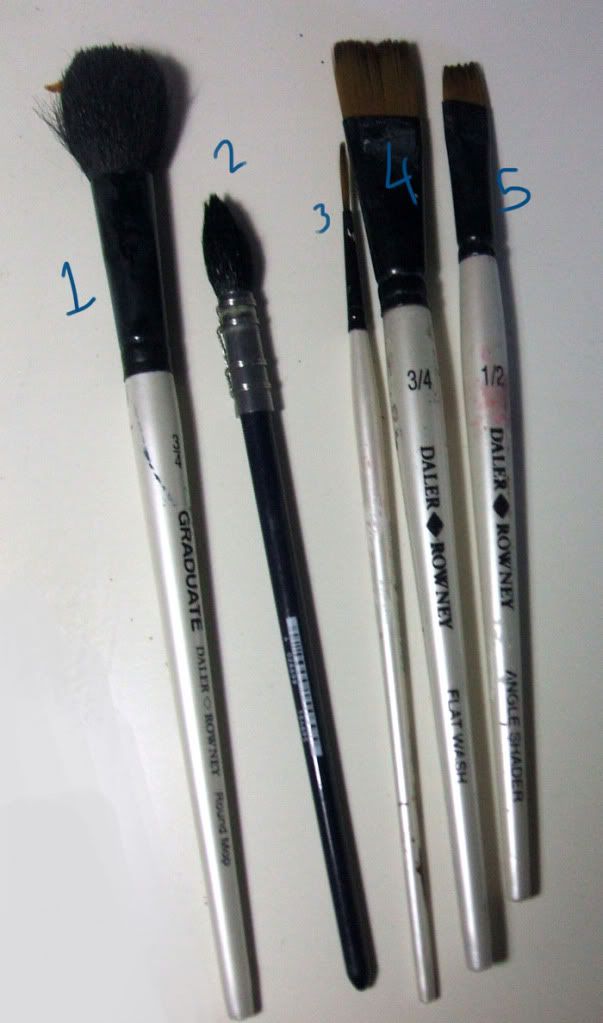 Generally with watercolours, you can't have enough brushes. They can be expensive as all hell though. The more expensive, the better the quality. Fortunately, there are some really good student quality brushes out there that I personally use and find do a bang up job. My favourite being Daler-Rowney's Graduate range. They have a huge range for shapes and sizes, some seen in the image above. The brushes I've listed there are a good selection to get you started. You will at least need one brush of each shape.
1. A nice big wash brush. Great for the initial stages and when you need a lot of coverage, fast.
2. A smaller wash brush. This one is one of my favourites, it's not unlike a Chinese calligraphy brush, holds a lot of water but can give you a lovely shape if you like. Again, for early stages and for brash washes and strokes.
3. Long, fine detail brush. This one is for those fine lines and details. The length of the bristles gives it an elasticity that I love, makes it easier to control and make some lovely smooth lines.
4. Square tip. I tend to use this one the least as I find it makes too uniform a stroke, but it's very useful for architecture or whenever you want good square shapes with a lot of coverage.
5. Angle shader. Great for creating shading with colour accents at the end stages if a piece, lovely sharp tip for finer detailed shading but can also be used to make squarer shapes. Very versatile.
Right! So lets get to the paintin's
I start with a simple sketch, not too much detail as I like to determine that as I paint. Although pencils and watercolours work very well together, I find heavy pencil work can weigh the image down. It depends on the kind of image you want in the end really, but I want to focus on the paint to create the volume and shading in this image as well as the colour, so this sketch is just to set out the shape.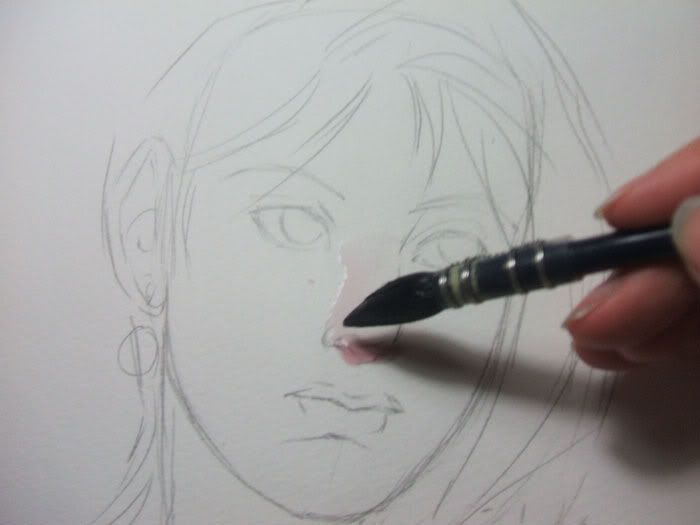 I start by loading a thin dilution of a crimson colour on the nose, cheeks and lips. Also in little spots here and there where shadows might be, on the eyelids for instance.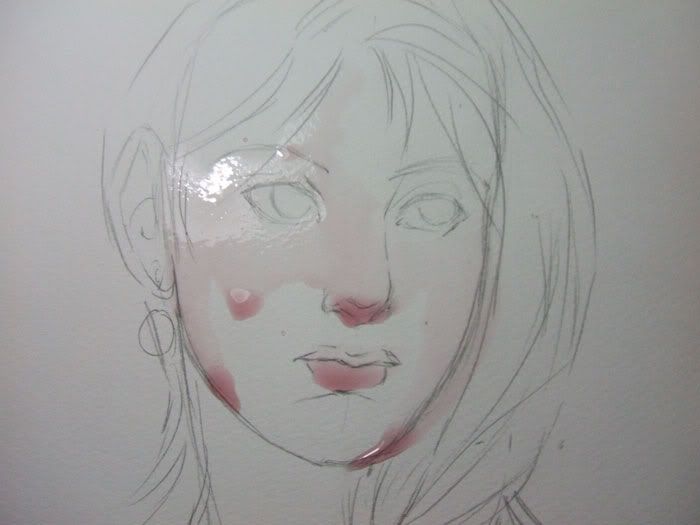 You can see as gravity has it's mysterious effect, there are big pools of paint gathered at the bottom of each stroke. You can leave them be and allow the paint to dry if you want, but if you want to move on fast…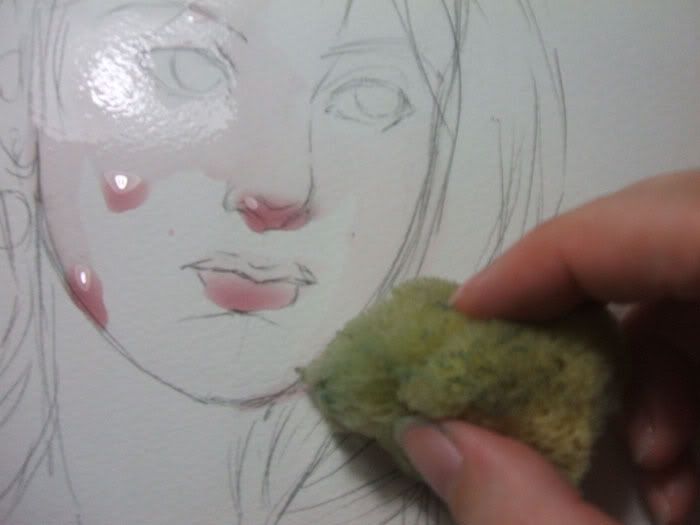 A little dab with a damp natural sponge…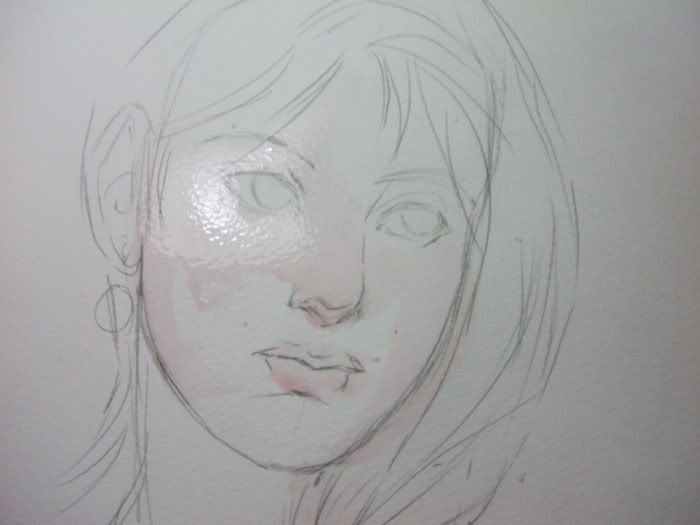 And the majority of the water is gone. The pigment does thin quite a bit when we use the sponge on it while it's still so wet, but when I start a painting, I like to keep things as pale as possible. The number 1 rule of watercolours is that we start with the palest possible shades first and we build on to that layer by layer. The slower and gentler the gradient of pigment we use, the better the overall image will look in the end. PATIENCE! YOU ARE RESTLESS!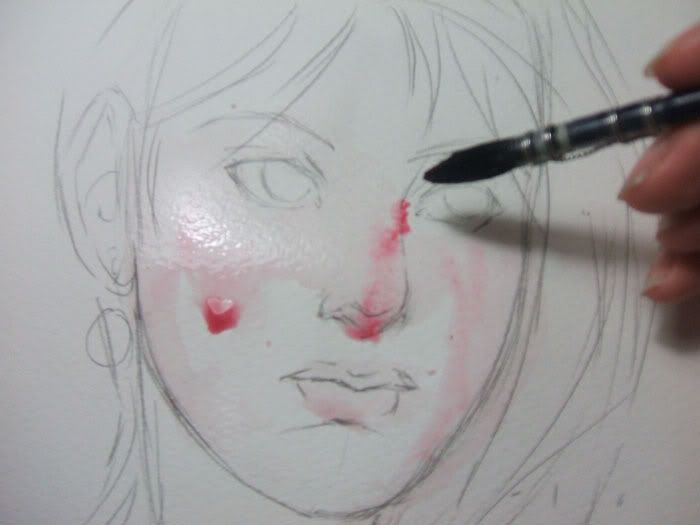 While the first layer is still wet, I then take a different shade of crimson and just drop highly pigmented drops on to the thin, wet layer. Again focusing on the nose, cheeks and lips.
As the paint is wet, those drops will slowly blend. If they look too solid to you, get a wet brush and gently blend.
Now, to even out this first layer of colour, I'm going to smooth those hard, ragged edges. Although these ragged edges are part of the style when using watercolours, at this stage I want to have a smooth base skin tone. As I work in more layers, the top detail layers can be left ragged here and there, though for more clarity, I recommend smoothing out most edges to accentuate one or two here and there so it doesn't look too messy.
To smoothen an edge, all you need to to is get a clean, wet brush and gently rub it along the edge removing the line of settled pigment.
You can then draw that out to create a gentle gradient. This works best on skin.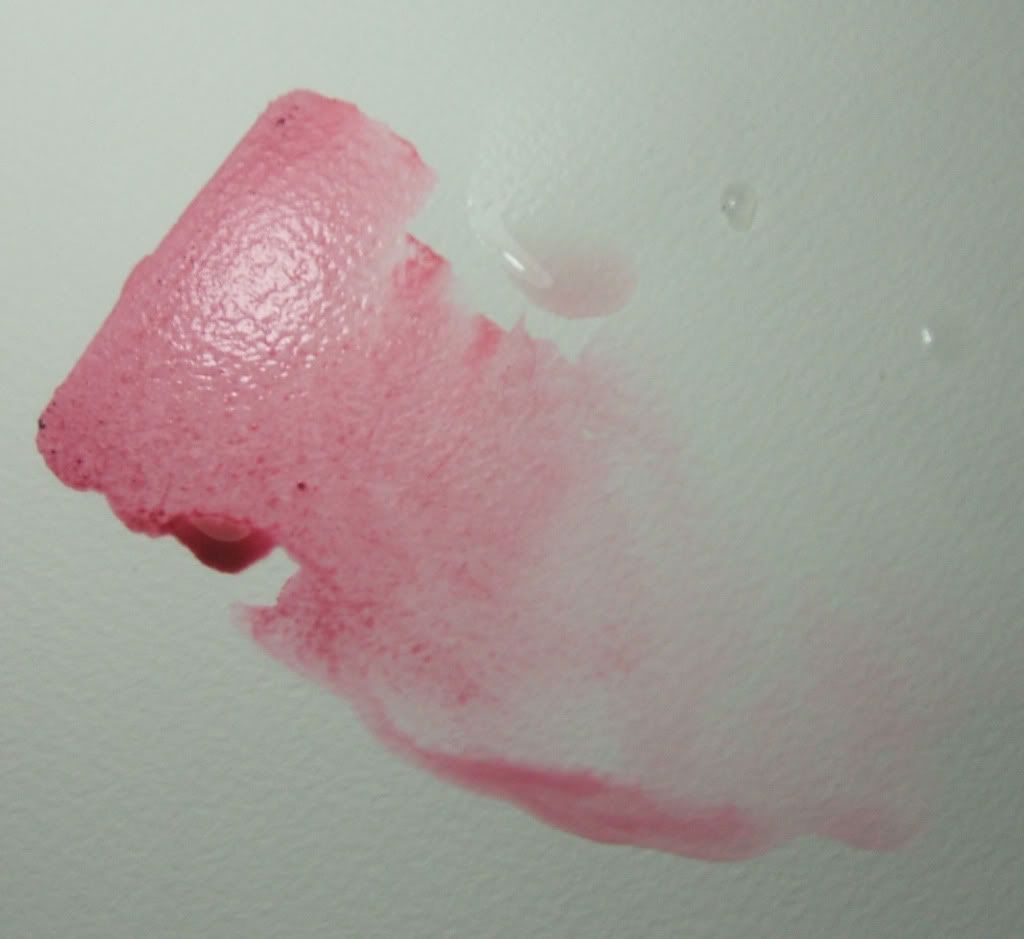 Smooth as a baby's arse!
Right, so now that we have that first, crimson based layer, I mix a secondary colour of the crimson used previously and a burnt umber (brown). This gives me the perfect warm skin tone. I paint a thin layer of this following the darker areas of the face.
If you look closely, you can see I placed this different shade where the overall shadows might fall rather than previously concentrating on the more flushed areas. It's important to mix different shades for those two areas of colouring as it gives more depth to the overall skin tone.
Now on to the next stage of detail.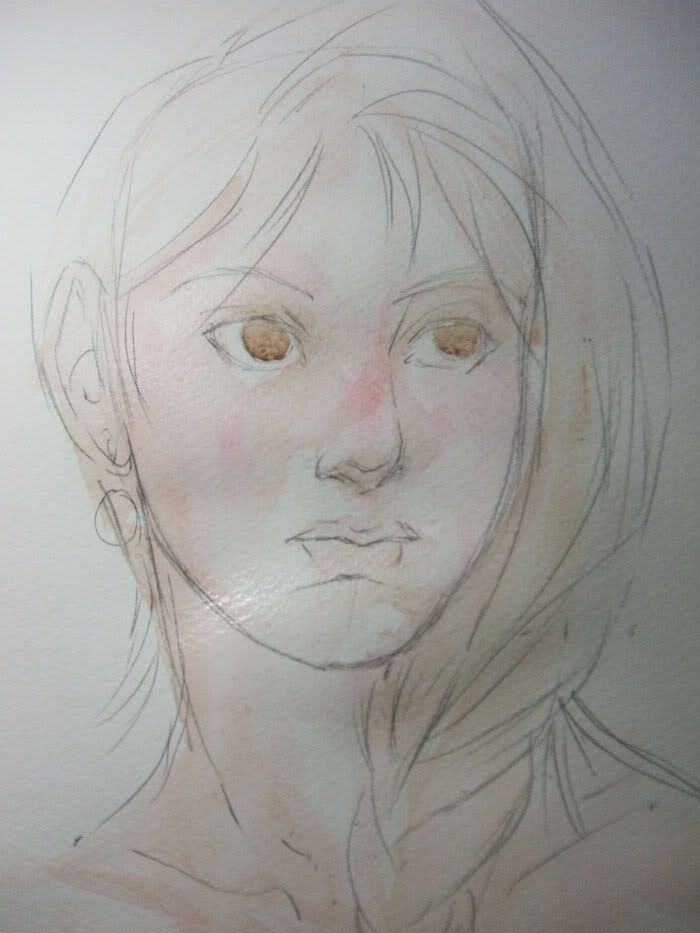 Using Paynes Gray, I mark out the extreme shadowing.
And then using the edge smoothing technique and a few gentle dabs of a damp sponge I soften those shadows out. I then let the paint dry fully.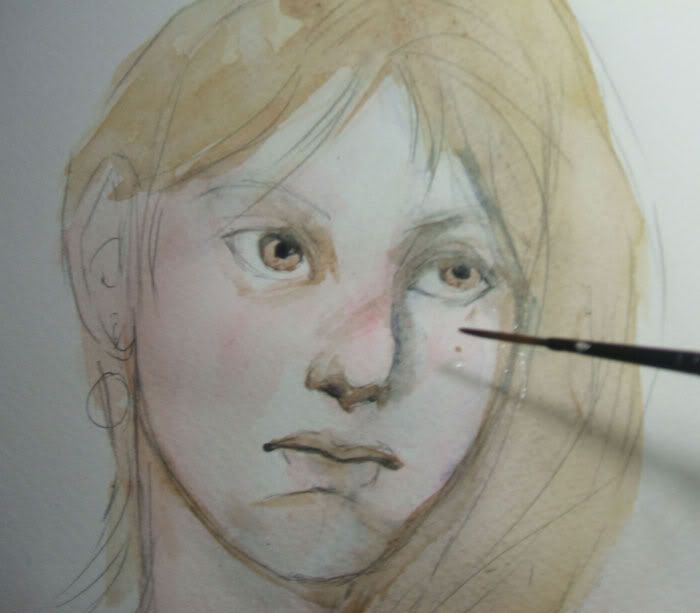 For detailing I use my long bristled detail brush. I tend to use it almost as if it were a pencil, shading with hatched lines.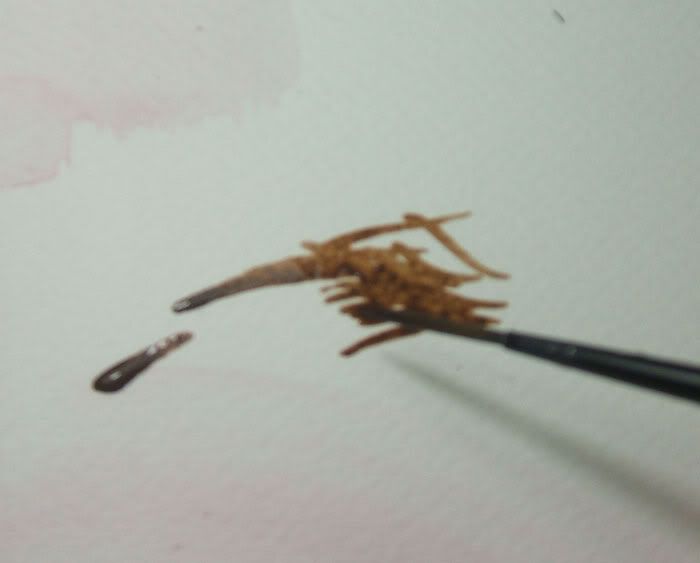 I then take a wet brush and smooth that on the edges so it doesn't look too harsh.
Next, with a large, flat, round tipped brush, I load on a burnt umber mixed with a little Paynes gray to cast shadow over one side.
Immediately after, using the same brush, I drop some cerulean blue on top and let it naturally blend over the brown shade to cool down the shadow and to make it less muddy.
As I'm working towards finishing, I add some highly pigmented scarlet to the cheeks and lips. It adds a bit more punch to the skin colour. I then blend it slightly by removing the bulk of the water, I then blend some of the edges gently.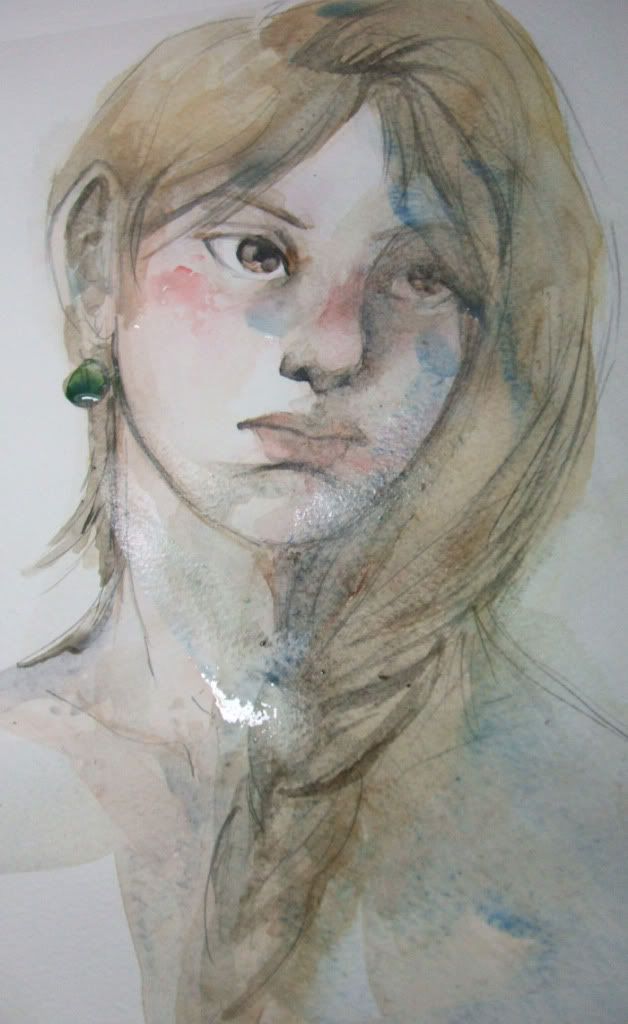 I then put another layer of cerulean on top of the shadows and in corners here and there to give a contrast to the skin colour. Cerulean and turquoise are excellent shades to use to add luminosity to skin.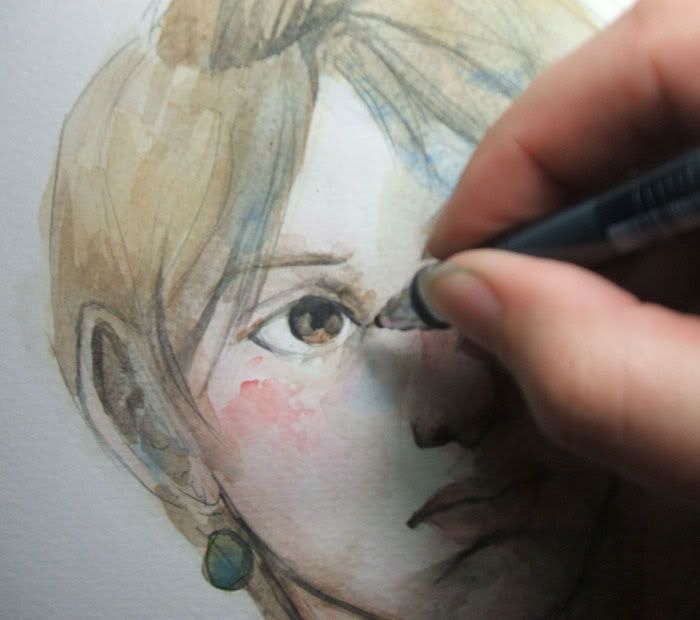 Using a mechanical pencil, I sharpen up the edges around the more detailed areas such as the eyes or nostrils. Less is more when it comes to cleaning up with a pencil, as you want the paint to do most of the work. Too much pencil can take away the paint's character.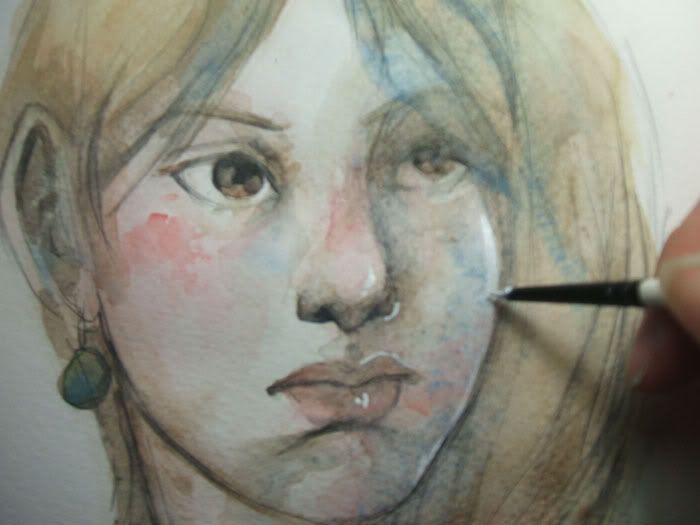 Then to finish, I add the highlights using white ink or acrylic paint. I almost NEVER use white watercolour as I find it melts and blends into the rest of the colour I laid turning it into a cloudy, sludgy mess. White watercolour might seem to be the obvious choice for bringing light into your painting, but it's not. It's a milky demon paint and it will ruin your life. When painting in highlights, be careful not to overdo it. Take it slow. With the watercolour paints themselves, you always have the option to remove them with a damp sponge and keep at it, but the white paint is practically impossible to remove without some loss of luminosity in your paintwork, so be cautious.
HIGHLIGHT SUPERTIP! Paint a line of highlight around the edge of the face on the shadowed side, it adds great depth in the lighting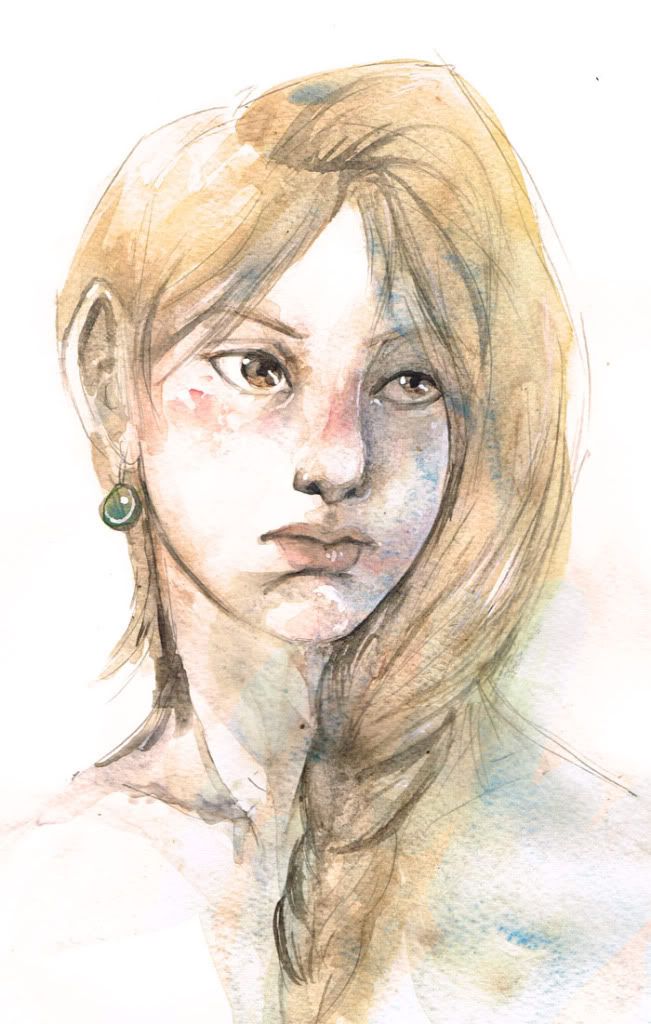 FINISHED! Witness how my scanner robs all life from the paint :C Now throw all your paints in the bin and quit cos WTF scanner!?
BUT WAIT!!111 THERE'S MOAR!
All that is well and good if you're painting pale skin, but if you want to paint darker skin, there are a couple of things I do differently.
Dark skin is tougher to get right. It can be hard for artists to get the contrast right without making it look either too dull, or too shiny. Really, it all depends on the exact shade you want to paint, and there are no set rules, but in general it's good to have a base method when beginning.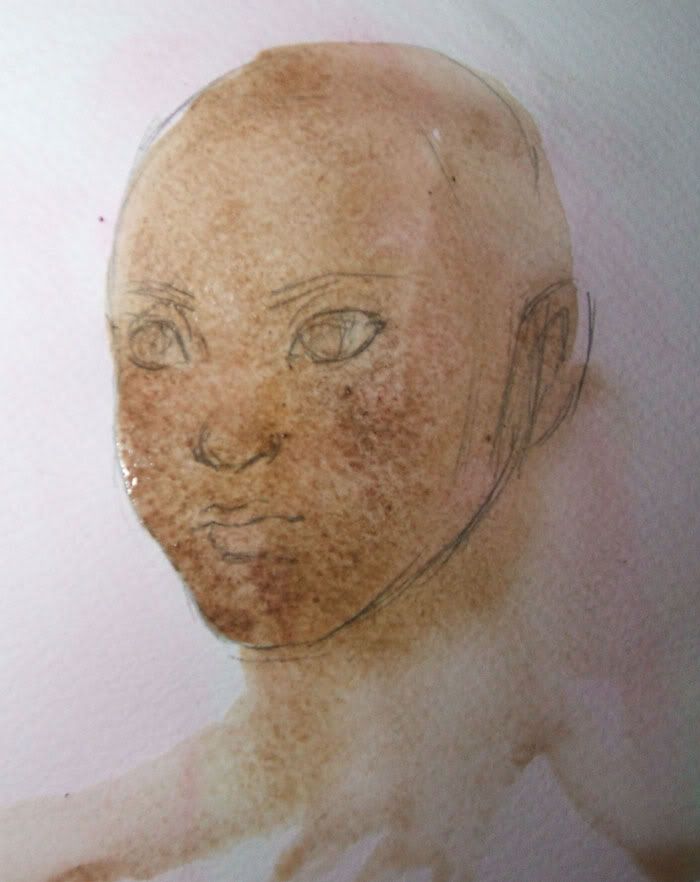 So beginning with the same kind of sketch, instead of dabbing on areas of colour, I wash the whole skin area with a burnt umber mixed with crimson. I always make sure to include a crimson shade regardless of how dark the skin is as it will prevent the colour getting too muddy.
With a clean, damp brush, I gently remove some of the paint to create the lighter areas. So I'm almost working backwards to create my base skin tone. The rest of the technique is largely the same. But always take care not to overload the painting with too much colour. Even though the skin may be dark, it still has the same luminous qualities of pale skin, so make sure it retains that.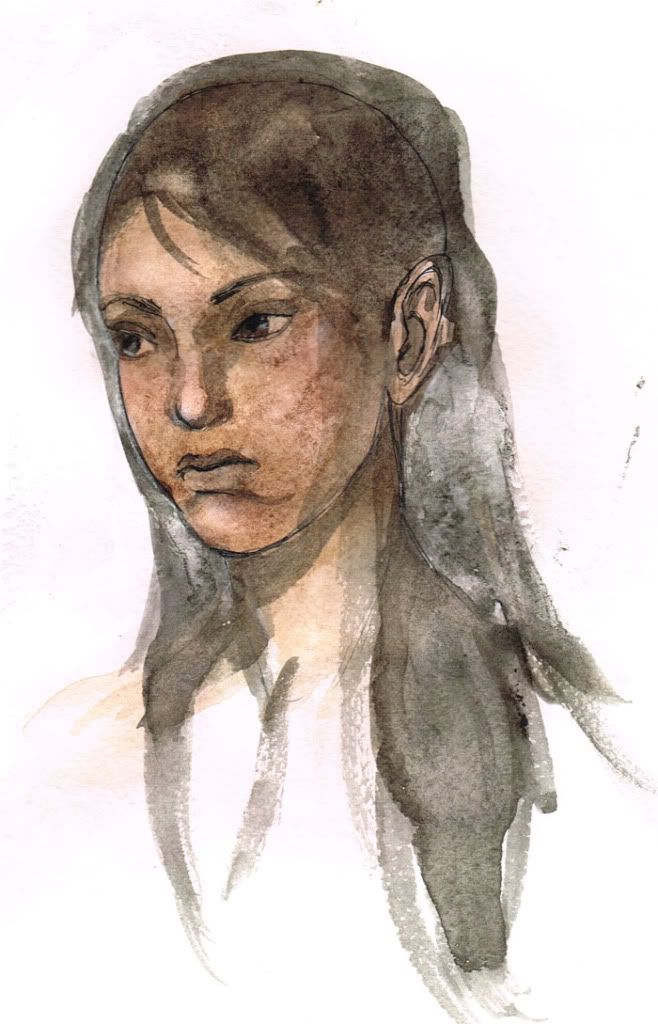 And that be that! I leave you with my Anna's tip top tips to remember when painting with watercolours!
1. Make sure your water is as clean as you can keep it. Change it regularly throughout your painting. Never use muddy water, and never wash brushes covered in white paint and then use that filthy water with other colours! *scream*
2. Don't be afraid of laying colour down. It's a common misconception that watercolours are terminal. Anything you lay down can be removed lickety split with a damp sponge. You can even manipulate dry paint with just a wet brush. Just stay away from that darn white paint till the VERY EXTREME END!!11 *huff* *wheeze*
3. Try and mix your own shades when possible. The standard colours are instantly recognisable to every artist (I can see cobalt blue a mile off and don't get me started on alizarin crimson…) and a lot of them aren't made to complement each other. Mix your own using one warm shade and one cool shade to unify your pallette (EX. Mixing a little bit of crimson into all your warm tones, a bit of cerulean into all your cool ones) It's not necessary to do so, but I find it adds a nice cohesiveness to your colours.
4. Take care of them brushes! Goes without saying, but you wont believe how lazy I used to be with that. When your brushes keep their shape, they create the best strokes.
Good luck!
← Back